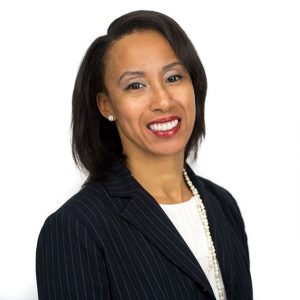 SHANNON LAGUERRE-MAINGRETTE
"At the end of the day, you have to be able to contribute to society by doing everything in your power to leave this world a better place than the way you found it."
Attorney, Shannon LaGuerre-Maingrette has made this quote her life mantra. This philosophy of doing great things is heavily embedded at the very heart and soul of her career as an immigration attorney.
Shannon has committed her life to ensuring that those who are underrepresented in this country are advocated for. She understood the importance of this and at Syracuse University, her alma mater, she founded and later became the President of College Democrats. She continued her passion to fight for the rights of others by becoming the Director of Young Voter Programs at the New York State Democratic Committee where she worked on presidential and congressional campaigns. Her political career continued at the Florida House of Representatives where she would become the lead researcher and writer of numerous bills. In particular, she researched and drafted an initial bill that established the trafficking of people into sexual slavery as a state crime and revised the RICO laws to include sex trafficking. This bill was later codified as Florida Statute § 796.035.
While Shannon was in law school, she developed a love and passion for litigation. She took a clinic in Child Advocacy and based on her exceptional courtroom skills, she was asked to continue the case even though the semester was complete. After law school graduation, Shannon left New York and was one of the attorneys to work with the thousands of boat people fleeing persecution from Haiti, Cuba and China. Shannon would conduct Know Your Rights Presentations at numerous detention centers where she advised inmates and detainees of their immigration rights. Shannon would go on to successfully represent many of these asylum seekers in Immigration Court. Shannon had an unprecedented number of victories in what was seen by many of her colleagues as "loser" cases at her previous job.
At Spar and Bernstein, Shannon continues her goal of making this world a better place by standing up to protect immigrants who are oppressed. She currently specializes in asylum, withholding and convention against torture cases, criminal and fraud waivers, deportation defense and federal court litigation. She has had an impressive record of winning complex legal cases at Spar and Bernstein. Her most noted accomplishments include successfully arguing multiple cases under the Convention Against Torture before the U.S. Immigration Court. The Executive Office for Immigration Review reported that less than 1% of these cases are granted.
Shannon is an Adjunct Assistant Professor at City University of New York's  School of Professional Studies where she is teaching Proceedings in Immigration Court: The Removal Process and Applications for Relief. Shannon has conducted numerous Continuing Legal Education courses on Asylum, Courtroom Techniques, Haitian Refugee Immigration Fairness Act and Criminal Immigration. She was a Faculty Speaker in the  20th Annual American Immigration Lawyers Association New York Symposium on Waivers: Fighting for Immigration Benefits After a Conviction, Fraud or Prior Removal Order, and the Impact of the NTA Memo in December 2018.
Shannon is also an Advisory Board Legal Consultant for the Immigrant Research & Advocacy Group in Rockland County, New York. Shannon is a Legal Consultant for The Village, an NBC show. As a Legal Consultant, she provides factual and technical information on immigration courts and immigration law. Shannon is a featured speaker discussing immigration on radio and social media shows. Shannon was awarded the Federal Bar Association's Immigration Law Section Outstanding New Member Award in May 2018. Shannon earned her Bachelor's Degree in Political Science from Syracuse University Maxwell School of Citizenship and Public Affairs. Shannon was awarded her Juris Doctor by Hofstra University School of Law. Shannon's career has been defined by successfully and zealously representing immigrants with empathy, expertise, integrity and wisdom.