IMMIGRATION MANDAMUS LITIGATION ATTORNEYS WITH 50 YEARS OF EXPERIENCE
With five decades of experience and a rich portfolio of immigration success stories, our immigration mandamus litigation attorneys at Spar & Bernstein will do everything in our power to overcome any challenges that stand in your way of realizing your American Dream.
Contact A US Immigration Mandamus Litigation Attorney
WHY HIRE SPAR & BERNSTEIN FOR IMMIGRATION MANDAMUS LITIGATION?
If your case is delayed beyond a reasonable timeframe or you were denied an immigration benefit, we will intervene on your behalf to resolve the situation by directly communicating with the government agency in charge.
Our knowledgeable team will utilize the various types of federal litigation and legal mechanisms at our disposal to challenge or seek review of government actions, decisions or inactions, including:
Mandamus
De novo review
Administrative Procedure Act (APA) Claim
Habeas corpus
Federal appeal of administrative decision
With extensive experience in all areas of immigration, our knowledgeable attorneys at Spar & Bernstein will review the details of your case and fight on your behalf for a favorable outcome.
WHAT IS A MANDAMUS?
A mandamus, also known as writ of mandamus, is an order issued by a superior court that compels a lower court or government agency to perform a mandatory duty they have failed or refused to perform.
Filing a mandamus does not mean that the federal court will assess your application, but it will order the agency in charge to pass a decision.
A mandamus is typically pursued when all other legal mechanisms, such as an appeal, have been exhausted.
Due to the complexities of preparing and filing a mandamus, working with our trusted immigration team will ensure that all details are taken care of and a decision on your case is pronounced.
WHEN IS A MANDAMUS FILED?
A mandamus can be used in various immigration situations, including:
A mandamus to U.S. Citizenship and Immigration Services (USCIS) when they are delaying their decision on a petition or application beyond a reasonable timeframe
A mandamus to a consular office when they are delaying the visa application process without a valid reason
A mandamus to USCIS when they are delaying adjudicating an application for work authorization, such as an Employment Authorization Document
A mandamus to the U.S. Department of State when they are delaying the issuance of a passport or other travel documents
A mandamus to the immigration court when they are delaying removal proceedings by not scheduling an interview or not passing a decision
WHAT IS DE NOVO REVIEW?
De novo review is a type of judicial review conducted by an appellate court in which the court decides on a case as if it were reviewing it for the first time, without taking into account the lower court's decision.
The reviewing court is not bound by the administrative agency's factual findings or legal interpretations and has the authority to reach its own conclusions based on the evidence and applicable law.
In immigration, de novo review can be used to independently assess legal issues and provide a fresh analysis of a case.
WHEN IS A DE NOVO REVIEW PETITION FILED?
De novo review can be used in various immigration situations, including:
Denial of asylum, to independently evaluate the claim, assess eligibility requirements and determine whether the judge's decision was within their legal purview
Denial of a family-based or employment-based immigration petition
Denial of citizenship
Challenging of removal or deportation orders
WHAT IS AN ADMINISTRATIVE PROCEDURE ACT CLAIM?
An Administrative Procedure Act (APA) claim refers to a legal argument brought under the Administrative Procedure Act.
As a federal statute, the APA governs the procedures followed by administrative agencies when making regulations and decisions and sets the standards and requirements to be followed by agencies in their adjudicatory processes.
Under the APA, individuals can bring a claim in federal court if they believe an agency's action or decision violates the APA's provisions.
WHEN IS AN ADMINISTRATIVE PROCEDURE ACT CLAIM FILED?
An APA claim can be used in immigration scenarios, such as:
An unreasonable delay by immigration agencies, such as USCIS or EOIR, on handing down decisions for immigration applications, petitions or cases, when the delay violates the APA's requirement for agencies to act within a reasonable timeframe
Visa or benefit application denial, when the agency does not provide a sufficient explanation for the denial
Improperly issued immigration orders or decisions, when the agency exceeds its authority or improperly interprets statutes or regulations
Procedural deficiencies in immigration proceedings, when there has been lack of notice or inadequate opportunity to present evidence
WHAT IS A HABEAS CORPUS PETITION?
A habeas corpus petition is a form of federal litigation that allows a person who is detained to challenge the lawfulness of their detention.
When a person files a habeas corpus petition, they ask the court to determine whether their detention is legal and justifiable. The court will evaluate whether the grounds for detention are valid and if the individual's rights were violated.
WHEN IS A HABEAS CORPUS PETITION FILED?
In the immigration context, a habeas corpus petition can be used when:
A person is detained without a reasonable justification or hearing
A person is detained for an unreasonable amount of time
A person is detained to be deported from the country after a final removal order and that detention exceeds six months
WHAT IS A FEDERAL APPEAL OF AN ADMINISTRATIVE DECISION?
A federal appeal of an administrative decision is the process of pursuing the review of an administrative agency's decision by a higher-level court — typically, a federal appellate court.
The aim of a federal appeal is to determine whether there were legal errors or procedural irregularities in the administrative decision-making process.
Typically, the court gives deference to the agency's findings of fact, but it may review the case independently.
WHEN IS A FEDERAL APPEAL OF AN ADMINISTRATIVE DECISION FILED?
In immigration, a federal appeal of an administrative decision can be used when:
USCIS denies an application for an immigration benefit, such as a visa, Green Card or naturalization
An immigration judge issues a removal order
An immigration judge denies an asylum application
An immigration judge denies a cancellation of removal request
An applicant is found inadmissible to the United States due to fraud, misrepresentation or criminal convictions
Speak With An Immigration Lawyer.
FAQS ABOUT MANDAMUS & FEDERAL LITIGATION
Can A Mandamus Guarantee A Favorable Decision On My Case?

No, a mandamus can only compel a lower court or government agency to decide on your case. A mandamus does not guarantee a favorable outcome.
How Long Does It Take To Get A Ruling On A Mandamus Petition?

The time it takes to get a ruling on a mandamus petition can vary depending on the complexity of the case, the court's docket and several other factors. Although considered urgent matters, mandamus petitions can take anywhere from several weeks to several months.
Can A Mandamus Provide Compensation If I Suffered Losses Due To Delayed Work Authorization Or Missed Employment Opportunities?

No, a mandamus does not provide any type of compensation for losses due to missed job opportunities.
Do I Need To Work With An Immigration Attorney To Pursue A Mandamus?

While it is not mandatory to work with an immigration attorney while pursuing a mandamus, it is highly advisable due to its complex nature and the specific requirements of each jurisdiction.
Can A Mandamus Be Appealed?

The issuance or denial of a writ of mandamus may be appealed to a higher court, depending on the jurisdiction and the specific circumstances of the case.
Who Can File A Habeas Corpus Petition?

Any person who is detained can file a habeas corpus petition to challenge the legality of their detention, regardless of whether they were detained by a government authority or a private individual.
What Is The Outcome Of A Successful Habeas Corpus Petition?

The outcome of a successful habeas corpus petition can include various forms of relief, such as release from custody, a new trial or a new sentence.
How Do I File A Habeas Corpus Petition?

To file a habeas corpus petition, use the form provided by your local district court.
What Is The Outcome In A Successful Federal Appeal Of An Administrative Decision?

If a federal appeal of an administrative decision is successful, the result can be an overturning of the agency's decision, returning the case back to the agency for further proceedings or providing other appropriate relief based on the specific circumstances.
What Type Of Federal Litigation Is Right For My Case?

Only an experienced immigration attorney can determine the right type of federal litigation to pursue in your case.

Our knowledgeable and compassionate lawyers will carefully evaluate your case, including the nature of the immigration issue, the evidence and the legal arguments.

Based on these factors, our team of lawyers will determine the most suitable type of federal litigation, such as filing a petition for de novo review, seeking a writ of habeas corpus or pursuing a civil action, to effectively advocate for your interests in federal court.
Experienced Leader in Immigration and Injury Law
Bradford H. Bernstein, a second-generation leader at Law Offices of Spar & Bernstein, P.C., has helped over 100,000 clients with immigration and personal injury issues. Brad joined the firm in 1993, became a partner in 1997, and assumed leadership in 2000 after Harry Spar retired.
View Brad's Bio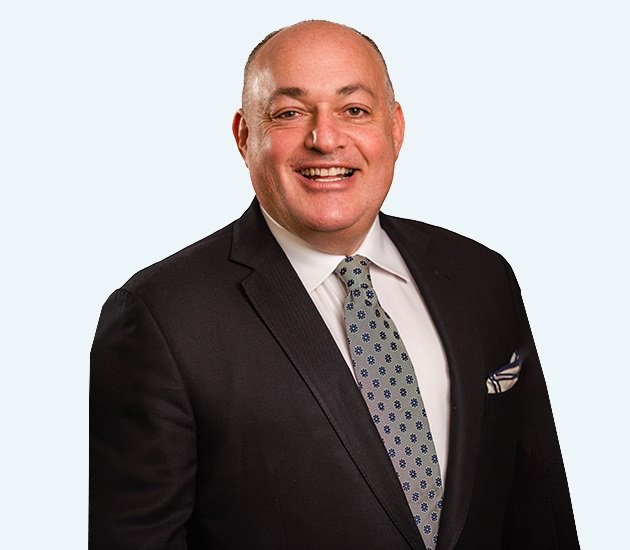 Bradford H. Bernstein