CONSTRUCTION ACCIDENT
Lawyers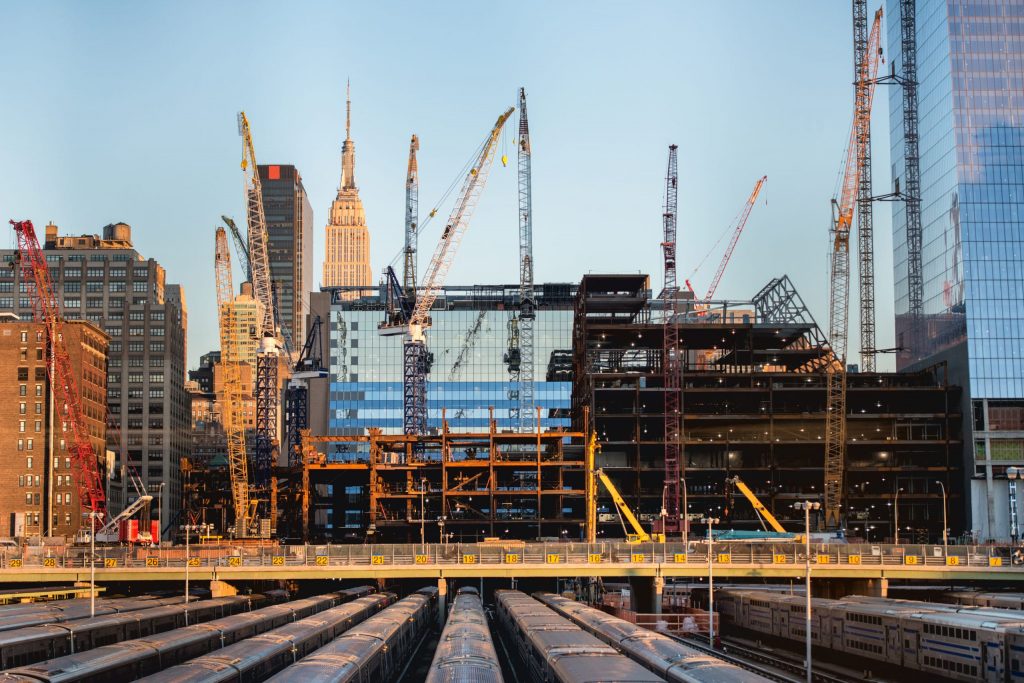 NYC Construction Accident Attorneys With 60 Years of Experience
With over 75,000 individual and corporate cases settled, 60 years of experience and 1,000+ five-star Google reviews, our construction accident attorneys at Spar & Bernstein are ready to represent you and secure the settlement you deserve. 
Why Hire Spar & Bernstein for Construction Accident Cases?
From injuries due to faulty equipment or falling objects to electrocution accidents and falls, we investigate and handle your case to pursue compensation for your injury.  
At Spar & Bernstein, you're never just a case number. Our caring and compassionate litigators provide legal support to help you through a trying time and ensure your medical costs are covered. 
Our firm's reputation is founded on three principles: the expertise of our attorneys, the uncompromising quality of our services, and the confidence we instill in our clients. 
Why Hire Spar & Bernstein for Construction Accident Cases?
The most common construction accidents recognized by New York State Law that may result in compensation include faulty equipment, falling objects, falls, electrocution accidents, being caught in or between equipment and more. 
Strict Liability For Your Injuries In Construction Accidents in New
Labor Law 200 requires that owners and contractors ensure a safe construction site environment to protect workers from hazards. If a construction site is unsafe and an employee is injured, the employee can hold contractors or site owners liable.
Known as the Scaffold Law, Labor Law 240 lays out strict regulations for workers performing jobs at high elevations, such as tall structures, ladders or scaffolds. If the worker is not properly protected and suffers an accident, they may pursue compensation from the third parties who provided safety devices or were in charge of supervising the project.  
Labor Law 241 specifies the safety codes and equipment needed during demolition, excavation and other construction work.  If safety measures are not in place and a worker is injured, they may file a lawsuit against the contractors involved. 
New York labor laws provide legal grounds to file a claim for construction accidents caused by negligence and pursue both individual compensation and improved safety conditions.  
Who Is Liable For Construction Accidents In New York?
The parties liable for construction accidents in New York include your employer or third-parties, such as subcontractors or manufacturers of a faulty or defective product. Machinery or property owners who have not taken measures to ensure the construction site's safety may also be held liable.  
Types Of Compensation For Construction Accident Injuries
If you are injured on the job, you can file a claim against the at-fault person or company to be held liable for your hospital bills and expenses related to ongoing treatment.  
Physical injuries and emotional suffering can negatively affect your quality of life. You can file a claim against the party responsible for the accident to pursue compensation for emotional distress. 
As a result of a construction accident, you may not be able to work for a certain, or indefinite, period of time. Your attorneys can file a claim to pursue compensation to cover lost wages for the duration of your recovery.  
If your loved one is killed in a construction accident, your family can pursue compensation, including end-of-life, pain and suffering, lost income, lost inheritance and more.  
If your personal property is damaged during the accident, the at-fault party may be held liable for damages.
If the at-fault party exhibited grossly negligent behavior, you may be able to collect further compensation. 
FAULTY EQUIPMENT ACCIDENTS
If an injury on construction site occurred because of a third party's negligence, the workers can make a claim against that party whether it be a General Contractor, Subcontractor or the owner of the property where the accident occurred. The injured party must establish that third party was negligent and that their negligence led to the injury. An experienced personal injury attorney can establish negligence on the injured victim's behalf.
From 2011-2016, there were 1,450 occupation fatalities classified as "struck by falling object"(Bureau of Labor Statistics). Many of these incidents could have been prevented if employers, contractors and other responsible parties adhered to proper safety regulations. If you have been harmed by debris or other objects that fell from above you while you were working in a construction site, you may be able to recover financial compensation against the negligent party.
Falls from unsafe scaffolding, ladders, bridges, etc.
Most construction workers who are injured in ladder or scaffold accidents fall off these devices when it collapses or is unsteady. Improperly designed, maintained or repaired devices can tip or collapse, causing serious debilitating injuries. The Occupational Safety and Health Administration (OSHA) enforces several regulations regarding devices uses such as ladders. Some safety precautions include:
Ladders should be inspected regularly

Ladders should be kept in good condition

Ladders should be put on secure footing or held in position

Ladders used to reach a roof must extend at least three feet above the point of support

When climbing the ladder, the construction worker should always face the ladder

Short ladders should never be spliced together to form a longer ladder

Ladders should not be used in the horizontal position as work platforms

The top of a stepladder should never be used as a step

Metal ladders should never be used near electrical equipment
It is the responsibility of supervisors, contractors, property owners to enforce the strict regulations for construction workers employed with or around power lines. Electricians are constantly surrounded by overhead and buried power lines that are un-insulated and can carry extremely high voltage. If there is no ground-fault protection, the insulation can break, short circuit and expose wires that can cause a ground-fault sending currents through the worker's body, which can result in severe electrical burns, explosions or even death.
NYC Construction Accident FAQ
Get answers to our most frequently asked questions about construction accidents.
Workers' compensation is insurance mandated by the government and paid for by the employer. It ensures that employees who are injured in job-related accidents receive medical and wage benefits.  
If you are injured in a construction accident, you can receive workers' compensation from your employer. However, workers' compensation also prohibits you from suing your employer. 
In New York, workers' compensation typically covers your medical expenses, along with two-thirds of your average weekly wage, and travel expenses to and from health care appointments. 
Injuries that are typically not covered under workers' compensation include: 
Injuries received while performing the job under the influence of alcohol or drugs

 
Injuries received in violation of company rules and regulations

 

Injuries that occur while commuting to/from your job location

 

Emotional and psychiatric injuries

 

Self-inflicted injuries

 
 To make sure you are eligible for workers' compensation, consult experienced construction accident attorneys. 
 At Spar & Bernstein, we will research your case and identify your options for filing additional claims outside of workers' compensation. 
If you are injured on the job in New York, you will receive workers' compensation from your employer. You are not permitted to sue your employer. However, you may have grounds to file a claim against other parties if they are responsible for your injury, including third-party contractors, subcontractors or property owners. 
At Spar & Bernstein, our experienced construction accident lawyers investigate your case, define your options and represent you to ensure you receive the maximum compensation for your injury. 
A third-party construction accident claim is a civil lawsuit against a party that is not your direct employer. 
Depending on the cause of the accident, third parties may include: 
General contractors

 

Subcontractors

 

Manufacturers of a faulty or defective product, tool or machinery

 

Property owners who have not taken steps to ensure construction site safety

 

Engineers

 
Architects

 

Third-party vendors

 

Utility companies

 

Government agencies

 

Other people present at the accident site on the day of the injury

 
To determine who is at fault for your accident, hire experienced attorneys who specialize in construction accidents. They will: 
Visit the accident scene

 

Talk with witnesses

 

Analyze reports

 
Access the safety records related to the construction site where the accident occurred

 

Find information on additional safety protocols

 

Consult experts in construction or other relevant fields

 
According to New York state law, your claim needs to be filed within three years after the construction accident has occurred. If you miss this deadline, you lose your right to pursue compensation for your injuries. 
Hiring legal representation will ensure you handle all paperwork on time to meet important deadlines. 
Filing a construction accident claim allows you to seek both economic and non-economic damages.  
 Workers' compensation, on the other hand, gives you indemnification for economic damages, only. 
 Economic damages include: 
Medical expenses

 

Medical devices

 

Anticipated medical bills

 
Long-term care expenses

 

Physiotherapy and rehab

 

Lost wages

 

Lost employment benefits

 

Home or vehicle modifications

 
Property damage

 

Funeral and burial costs if there is a wrongful death case

 
 Non-economic damages you may pursue include: 
Pain and suffering

 

Post-traumatic stress disorder

 

Emotional damages

 

Deterioration of your quality of life

 
The post-accident period poses physical, psychological, emotional and financial challenges for you and your loved ones. 
At Spar & Bernstein you pay only after a settlement is reached or a verdict is pronounced, and only if your case succeeds. 
Once we win your case, you pay only a percentage of your net compensation. 
We offer a free initial consultation to discuss the details of your construction accident and the subsequent steps to be taken. 
The time following a construction accident may be extremely difficult for you and your family. In addition to physical and psychological damages, you may be unable to work for months, years or even permanently. 
By the time a verdict is reached, over a year can pass, during which time you and your family members may be forced to live with no income. 
With this in mind, our Spar & Bernstein attorneys work tirelessly to ensure our clients are compensated even before a verdict is reached. 
Depending on the case, our attorneys will fight to ensure our client's medical bills are paid as they arise. 
The sooner you seek legal representation, the better. Immediate contact with experienced attorneys will ensure you: 
Get the workers' compensation you are entitled to

 
Pursue a timely investigation to secure the necessary evidence

 

Communicate with experts who can estimate your future expenses in regards to medical bills, rehab, lost wages and more, to file for adequate compensation

 
The New York City Immigration Law Offices of Spar & Bernstein was founded in 1958 and has helped over 100,000 clients with immigration and personal injury cases. The firm represents clients for immigration in all 50 states and worldwide. The firm limits representation to accident victims in New York and New Jersey only. The law firm has locations in Manhattan, New York, and Hartford, Connecticut.
New York Office
225 Broadway, 5th Floor
New York City, New York, 10007
+1 212-227-3636
Connecticut Office
221 Main Street, Suite 501, Hartford CT 06106