INVESTOR VISA ATTORNEYS WITH 50 YEARS OF LEGAL EXPERIENCE
With 50+ years of immigration experience, our knowledgeable attorneys at Spar & Bernstein have helped thousands of foreign investors file for employment immigration and contribute to the United States' economic growth through their investments.
Contact An Investor Visa Lawyer
WHY HIRE SPAR & BERNSTEIN FOR HELP WITH YOUR INVESTOR VISA?
If you are planning to enter the US as a foreign investor, our investor visa lawyers will guide you through the complex process of obtaining a EB-5 visa.
We will help you file your investor petition, submit your Green Card application and help you prepare for your EB-5 interview.
WHAT IS AN INVESTOR VISA?
An investor visa, known also as EB-5 visa, investor Green Card or Fifth preference category visa, allows you to enter the US and engage in commercial enterprises, contributing to the US economic growth through capital investment and job creation.
EB-5 serves as a path to permanent resident status for an initial conditional period of two years. Once the two-year period expires, you may submit a petition to remove the conditions from your permanent resident status.
WHAT IS THE EB-5 PROGRAM?
The EB-5 Program is a program that was created by Congress in 1990 to stimulate the US economy through capital investment and job creation by foreign investors.
WHAT IS THE IMMIGRANT INVESTOR PROGRAM?
The Immigrant Investor Program, also known as the Regional Center Program, was created by Congress in 1992 to set aside investor visas for foreign nationals who invest in commercial enterprises that are linked to regional centers approved by USCIS, to promote economic growth.
WHO IS ELIGIBLE FOR AN IMMIGRANT INVESTOR VISA?
To qualify as an immigrant investor, you must:
Invest a minimum of $1.8 million in a qualifying commercial enterprise
Invest a minimum of $800,000 in a targeted employment area such as rural or high-unemployment area for petitions
Create your own business or purchase an existing commercial enterprise that was formed after the implementation of the EB-5 program in 1990
Provide evidence that the funds come from legitimate sources
Have an active or at-risk investment
Create 10 full-time jobs for US workers (US citizens, lawful permanent residents or immigrants with the right to work in the US)
HOW TO APPLY FOR AN INVESTOR VISA
To file for an investor visa:
File Form I-526, Immigrant Petition by Alien Entrepreneur
Wait until US Citizenship and Immigration Services (USCIS) approves your petition
Submit your Green Card application
– If you are applying for an EB-5 visa outside the US, file Form DS-260, Application for Immigrant Visa and Alien Registration, with the US Department of State, for adjustment of your status
– If you are applying for an EB-5 visa while in the US, file Form I-485, Application to Register Permanent Residence or Adjust Status, with USCIS
Attend your EB-5 visa interview
Speak With An Immigration Lawyer
Experienced Investor Visa Lawyers Fighting for You
Don't wait. Solve your U.S. immigration problems now.
65+ years of experience in all areas of immigration law
Helped 100,000+ people to obtain U.S. immigration benefits
Citizenship, Naturalization, Family Immigration, Waivers & more
Schedule a Call
INVESTOR VISA FAQS
Is The Number Of Investor Visas Limited?

Yes, the number of investor visas is limited. Every fiscal year (October 1st – September 30th), 9,940 EB-5 visas are issued, which makes up to 7.1% of the total number of employment-based visas.
How Are EB-5 Visas Distributed Per Investment Projects?

From the total number of EB-5 visas issued each year:

20% are reserved for rural projects
10% are reserved for high unemployment area projects
2% are reserved for infrastructure projects by immigrant investors
What Are The Investor Visa Categories?

Immigrant investor visa categories include:

C5: Employment creation outside a targeted area
T5: Employment creation in a targeted high unemployment/rural area
I5: Investor Pilot Program in a targeted area
R5: Investor Pilot Program outside a targeted area
How Can I Find An Investment Project In The US?

To find an investment project:

Start your own individual investor project such as a restaurant franchise
Make an investment through the approved Regional Centers, contributing funds to entities recognized by the government
What Sources Of Funds Can I Use For My EB-5 Investment?

For your EB-5 investment, your funds need to be legitimate and well documented, from sources such as:

Accumulated income
Real estate secured loans
Gifts

Our investor visa lawyers at Spar & Bernstein can help you prepare a report to detail your investment funds.
How Long Does It Take To Receive An EB-5 Visa?

Investor visas are a part of a numerically limited visa category and the time it takes to receive an EB-5 varies from case to case.

Investor visas are issued in the order in which the petitions have been filed. The time it takes to process an EB-5 visa depends on the number of pending applications.

If your investment is of national interest, USCIS may grant you expedited approval.
What Does The EB-5 Visa Interview Include?

Your EB-5 interview may include questions about:

The commercial enterprise you have invested in
The sources of capital used
Your prior visits to the US

At Spar & Bernstein, our experienced investor visa lawyers will help you prepare for your investor visa interview by reviewing questions you may encounter.
What Documents Do I Need To Bring To My EB-5 Visa Interview?

When attending your EB-5 visa interview, bring:

A copy of your Form DS-260/I-485 submission
Your passport (valid for a minimum of six months after your intended entry date to the US)
A document from a financial institution, showing that the capital needed has been released from escrow
Your birth certificate
Your marriage certificate, if applicable
Your divorce decrees, if applicable
Police certificates from your current country of residence to show whether you have a criminal record
A color passport photo
Sealed results of your medical examination
Can I Receive Permanent Resident Status As An Immigrant Investor?

Once your EB-5 petition is approved, you can apply for a Green Card. When your Green Card application is approved, you and your derivative family members will receive conditional permanent resident status for a period of two years.

Once the applicable requirements are satisfied, USCIS will remove the conditions and you will become lawful permanent residents of the US without conditions.
Can My Family Join Me If I Receive An EB-5 Visa?

Your EB-5 visa allows your spouse and unmarried children under 21 years of age to receive a conditional Green Card, which is valid for two years.
How Do I Remove The Conditions From My Permanent Resident Status?

To remove your permanent resident status conditions, submit a petition 90 days before the expiration of your conditional Green Card. Submit Form I-829, Petition by Investor to Remove Conditions on Permanent Resident Status.

To determine the filing date within the 90-day period, use USCIS' Filing Calculator.

If you don't file a petition to remove the conditions on your permanent resident status within 90 days of the expiration date, you lose the right to remain in the US.
What Is A Commercial Enterprise?

A commercial enterprise conducts lawful business through for-profit activities, such as:

A corporation
A partnership, limited or general
A sole proprietorship
A business trust
A holding company
A joint venture
Other entity, owned publicly or privately
What Is A Regional Center?

A regional center is a public or private economic agency or organization approved by USCIS that is working to fulfill the goal of the EB-5 program, to promote economic growth and increase the regional productivity in a specific geographic area.
Is Labor Certification Required For Immigrant Investors?

No, as an immigrant investor you do not need labor certification.
How Can I Be Sure That An EB-5 Project Is Legitimate If I Was Approached For Investment By A Third Party?

Before making an investment decision, always research the project with the help of trusted financial professionals.

The approved EB-5 immigrant investor regional centers listed by USCIS does not:

Minimize your risk as an investor
Guarantee compliance with US securities laws
Endorse the regional center's activities by USCIS
Am I Obligated To Live In The Same City Where My Investor's Project is Located?

No, you are not obligated to live in the state or city where your commercial enterprise or project is located.
Am I Obligated To Visit The Regional Center Through Which I Plan To Invest?

No, you do not have to visit the regional center. However, it is strongly recommended to do your own research before making a decision on your investment, which may include a visit.
Can I File Alternative Immigration Forms While My Immigrant Petition By Alien Entrepreneur Is Being Processed By USCIS?

Yes, you can file alternative immigration forms while your Form I-526 is being processed. Note that you must submit evidence of eligibility for any benefit you are pursuing.
How Can Spar & Bernstein Help You With Your EB-5 Visa?

Our experienced team of lawyers at Spar & Bernstein can help you:

Compile the required documents accompanying your investment visa application, such as your personal financial information, business plans or immigration forms
Prepare a legal brief to detail how you have met the requirements of the statute
File your investor visa petition and other forms
Prepare and provide any additional information USCIS may request after filing your investor visa petition
Prepare you for your EB-5 interview and upon your request, accompany you at the interview
Follow up on your EB-5 application
Help you find a regional center if needed
Help you find financial consultants
What Types of Immigration Lawyers Spar & Bernstein Has?
Experienced Leader in Immigration and Injury Law
Bradford H. Bernstein, a second-generation leader at Law Offices of Spar & Bernstein, P.C., has helped over 100,000 clients with immigration and personal injury issues. Brad joined the firm in 1993, became a partner in 1997, and assumed leadership in 2000 after Harry Spar retired.
View Brad's Bio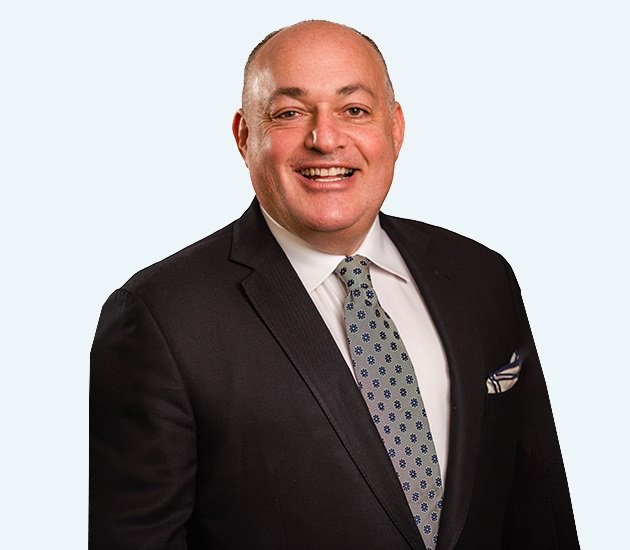 Bradford H. Bernstein