NYC Motor Vehicle Accident
Lawyers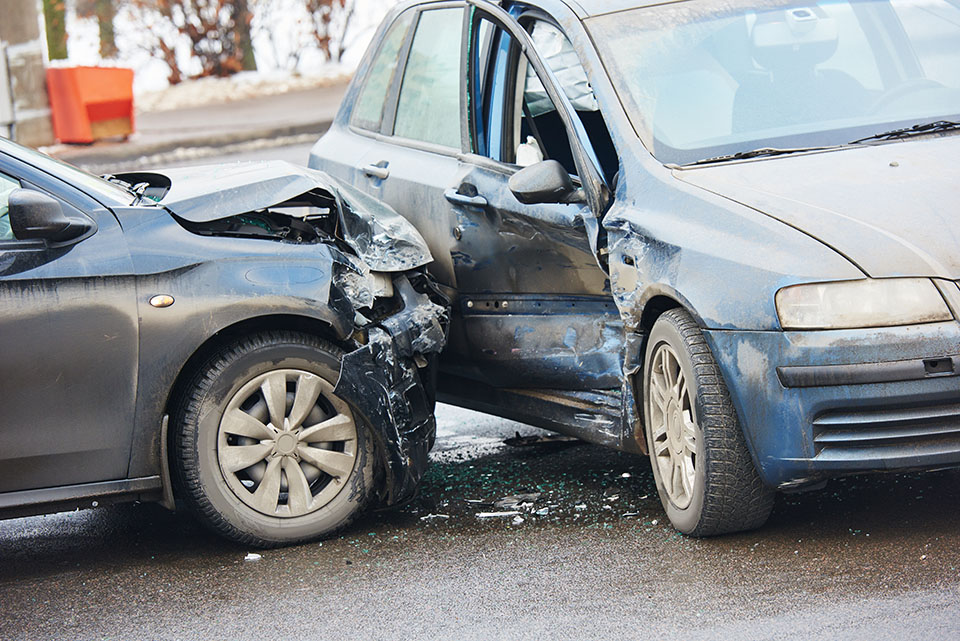 NYC Motor Vehicle Accident Attorneys With 60 Years Of Experience
At Spar & Bernstein, we have over 60 years of experience with personal injury cases. If you've been injured in a motor vehicle accident, our attorneys will fight for the best possible outcome, including a maximum settlement for your case. 
Why Hire Spar & Bernstein For Motor Vehicle Accident Cases?
Our knowledgeable and tenacious lawyers are ready to represent you, whether you were involved in a motor vehicle accident as a driver, passenger or pedestrian.  
Our compassionate attorneys will support you legally, financially and emotionally throughout the entire process, giving you peace of mind that your case is in good hands. 
Types of Motor Vehicle Accidents Recognized By New York State Law
The most common motor vehicle accidents recognized by New York State Law for which you can seek compensation include: head-on collisions, rear-end collisions, side-impact collisions (also known as T-bone or broadside collisions), rollovers, single-vehicle accidents and multiple vehicle pile-ups. 
New York Car Accident Laws
The statute of limitations states that the period to file a claim after a motor vehicle accident extends to three years (3), starting from the date of the accident. If the statute of limitations passes, the court is likely to dismiss your case. 
New York No-Fault Law (Comprehensive Motor Vehicle Insurance Reparations Act) 
The New York No-Fault Law states that insurance companies must provide up to $50,000 for medical and hospital services, non-medical treatment and care, physical, psychiatric and occupational therapy and other injury-related professional services, regardless of who is at-fault for the accident. 
 Contributory or Comparative Negligence (N.Y. Civ. Prac. L. & R. §1411) 
This law states that the damages you can claim after a motor vehicle accident are reduced by your own percentage of fault, no matter what the fault amount is. 
Driver Inattention/Distraction
Failure to Yield Right of Way
Following too Closely
Unsafe Speed
Passing or Lane Usage Improper
Backing Unsafely
Alcohol Involvement
Unsafe Lane Changing
Turning Improperly
Traffic Control Disregarded (e.g. running red lights or stop signs)
Important Time Limitations
No Fault Benefits - No-Fault benefits are extended to those injured in a car accident. They cover reasonable medical expenses and lost wages. A No-Fault claim must be filed within 30 days of the accident with the appropriate insurance carrier. A knowledgeable and experienced personal injury attorney will know what forms to file to preserve your rights and benefits.
Pain and suffering award - In New York, you must file an action for negligence against the person responsible within three (3) years of the accident. In New Jersey, the action must be filed within two (2) years.
NYC Motor Vehicle Accident FAQ
Get answers to our most frequently asked questions about motor vehicle accidents.
Immediately after a motor vehicle accident, you should: 
Call the police and give your statement

 

Remain on the scene of the accident until the police arrive

 

If possible, take pictures/video of the incident with your phone 

 

Seek medical help

 
Every vehicle owner in New York has no-fault insurance. The no-fault insurance company will pay for medical expenses up to $50,000. If you were the operator of the vehicle or a passenger in the vehicle, the vehicle in which you were in will pay for the expenses. 
No-fault insurance covers: 
Medical expenses up to $50,000

 

80% of lost wages

 

In-house help, if you are unable to perform routine daily activities like dressing, eating, etc.

 

Travel expenses to/from doctor's appointments

 
Yes, New York is a no-fault state.
No-fault means that regardless of who has caused the accident, your insurance company will cover the medical expenses resulting from your injury (hospitalization, physical therapy, etc.) within the coverage limit. It will also pay for lost wages if you are unable to go back to work due to injuries.  
In New York, you can get compensation for pain and suffering only if you have sustained a serious injury. 
You must file your no-fault claim with your insurance company within 30 days of the accident.  
An experienced lawyer can help ensure the correct paperwork is filed so you can submit your claim on time. 
According to the New York State Insurance law a serious injury includes: 
Death

 

Significant disfigurement

 

Dismemberment

 

Fracture

 

Loss of a fetus

 
Permanent loss of use of a body organ, member, function or system

 

Permanent consequential limitation of a body organ or member 

 

Significant limitation of use of a body system or function 

 

Medically determined injury or impairment of a non-permanent nature which prevents the injured person from performing substantially all of the material acts which constitute such person's usual and customary daily activities for not less than 90 days during the 180 days immediately following the occurrence of the injury or impairment

 
Outside no-fault claim, you should file your motor vehicle accident claim against third parties within three years from the date of the accident. 
After this period expires, you lose the right to seek compensation. 
If you are communicating directly with the insurance company, the negotiation process may take several years. That is why having an experienced legal attorney by your side is crucial to filing a claim and securing a settlement. 
In New Jersey, you should file a motor vehicle claim within two years. 
You can file an injury claim against anyone who has contributed to the motor vehicle accident. 
Liable parties may include drivers, passengers, motorcyclists, bicyclists, pedestrians, road construction companies and more. 
Contact us at Spar & Bernstein for a free consultation regarding your case. We'll discuss your options and next steps. 
If the motor vehicle you were driving or riding as a passenger in did not have applicable insurance, the Motor Vehicle Accident Indemnification ("MVAIC") covers certain benefits.
You must file the claim timely. MVAIC is a non-profit organization created by the New York State Legislature in 1958 to provide No-Fault and Bodily Injury protection to eligible claimants. 
An experienced attorney will look into your case and determine a fair compensation to pursue to support you during the recovery period and after it. 
At Spar & Bernstein, we offer a free initial consultation to discuss the details of your case and plan next steps. 
We consider: 
Seriousness of your injuries

 

Need for surgery/hospitalization/treatment

 

Inability to work for a period of time

 

Lenth of time without being able to work

 

Injury impact on your daily life

 
Need for external help for routine everyday activities like bathing, eating and more

 

Psychological and emotional trauma

 

Possible disfigurement or paralysis

 

Vehicle damage

 
Our experienced team will be by your side during the challenging post-accident period. We will: 
Define liability

 

Gather evidence

 

Calculate losses

 

Advise you on filing a claim or a lawsuit

 
Communicate with insurance companies

 

Draft and filing of insurance claims

 

Draft and filing

of

lawsuits

 

Secure your legal representation

 

Defend your rights

 
Take your case to trial

 

Negotiate settlements

 
We will fight to ensure you receive the maximum compensation to improve your physical and psychological recovery. 
At Spar & Bernstein, we do not require an upfront payment.  
Once we reach a settlement or win your case, you pay only a percentage of the net compensation you receive. The fee is due only if and when we reach a successful outcome. 
We ensure that regardless of your financial standing, you receive adequate legal representation. 
To lay the foundation of our client-attorney relationship, we offer a free initial consultation to discuss your case and provide our transparent recommendations for next steps.
The New York City Immigration Law Offices of Spar & Bernstein was founded in 1958 and has helped over 100,000 clients with immigration and personal injury cases. The firm represents clients for immigration in all 50 states and worldwide. The firm limits representation to accident victims in New York and New Jersey only. The law firm has locations in Manhattan, New York, and Hartford, Connecticut.
New York Office
225 Broadway, 5th Floor
New York City, New York, 10007
+1 212-227-3636
Connecticut Office
221 Main Street, Suite 501, Hartford CT 06106