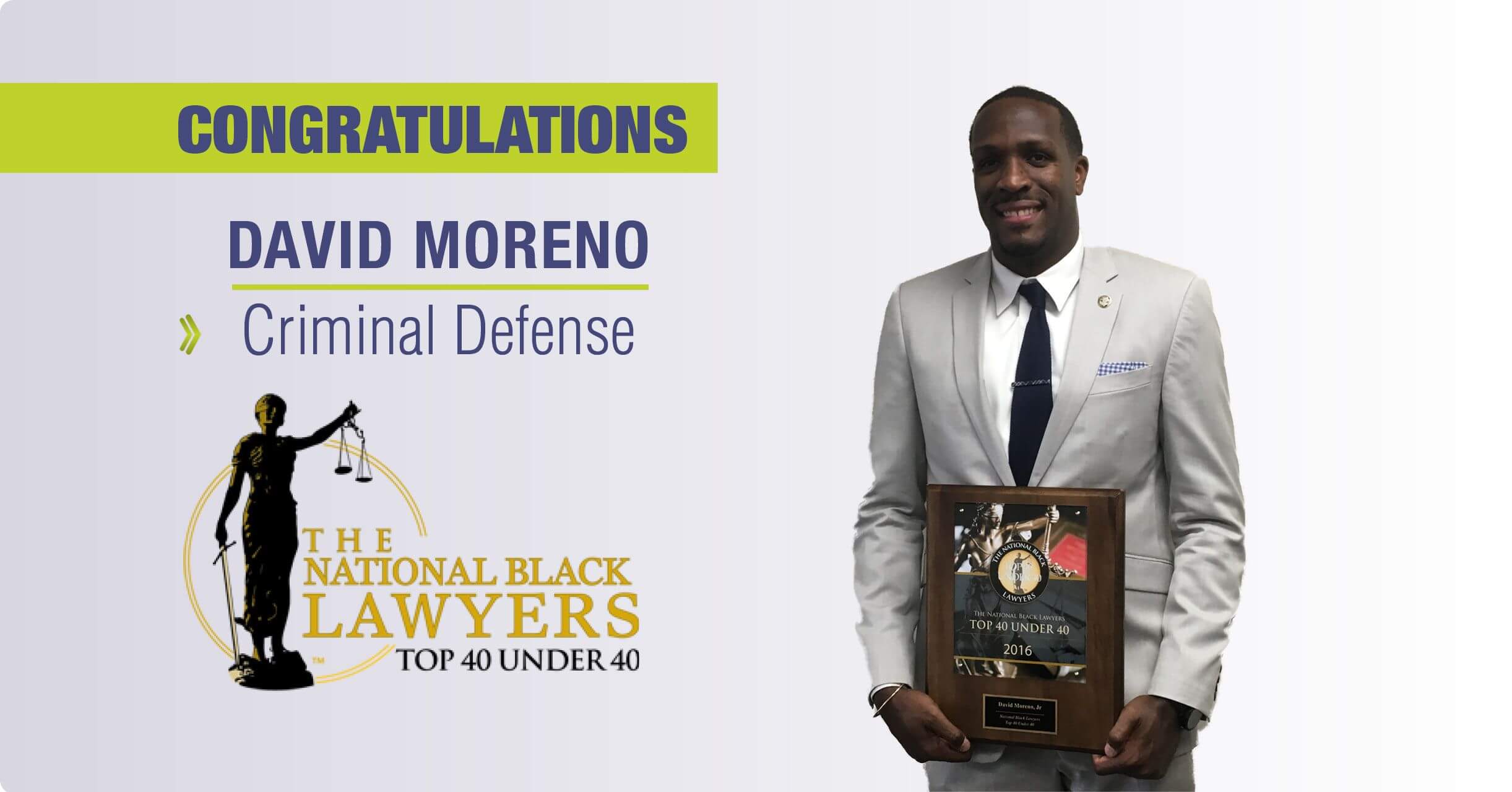 SPAR & BERNSTEIN LAWYER RECEIVES NEW HONOR
David Moreno of The Law Offices of Spar & Bernstein Named by The National Black Lawyers—Top 40 Under 40
The National Black Lawyers is an invitation-only professional honorary organization that recognizes select attorneys for excellence in their area of legal practice.NEW YORK (Aug 24, 2016)—David Moreno, Jr., an attorney at the Law Offices of Spar & Bernstein PC, was recently named to The National Black Lawyers' Top 40 Under 40 list for the state of New York.
Moreno was selected for inclusion because he exemplifies superior leadership, reputation, influence and performance in the areas of criminal defense, government law, and entertainment, sports, and arts law.
"I am extremely humbled, grateful and honored to have been chosen to receive this award," said Moreno. "It feels great to be recognized for the hard work that I put in day in and day out for our clients."
Moreno graduated with honors from Long Island University with a bachelor's degree in criminal justice in 2008 and then received his juris doctor degree in 2011 from the University of Miami School of Law.
In 2011, Moreno started his career in law as an Assistant District Attorney for New York County. There, he served in the highly regarded Trial Bureau 50, which has sent many lawyers on to distinguished careers, including Supreme Court Justice Sonia Sotomayor and the late Robert F. Kennedy. In 2015, he joined Spar & Bernstein as a criminal defense attorney.
###
With more than 50 years of experience and a clientele that exceeds 50,000, The Law Offices of Spar & Bernstein, P.C. is a highly respected and authoritative law firm that concentrates in immigration issues. Located in New York City, Spar & Bernstein boasts a legal team that is experienced in representing a diverse clientele and navigating the many complex and often changing federal and state immigration laws. Spar & Bernstein also has legal teams who focus on construction accident law, matrimonial and family law, criminal defense, and tax law for individuals and corporate clients.
The Law Offices of Spar & Bernstein, P.C. can be reached by telephone at 800-529-5465 or 212-277-3636 and at www.lawsb.com.