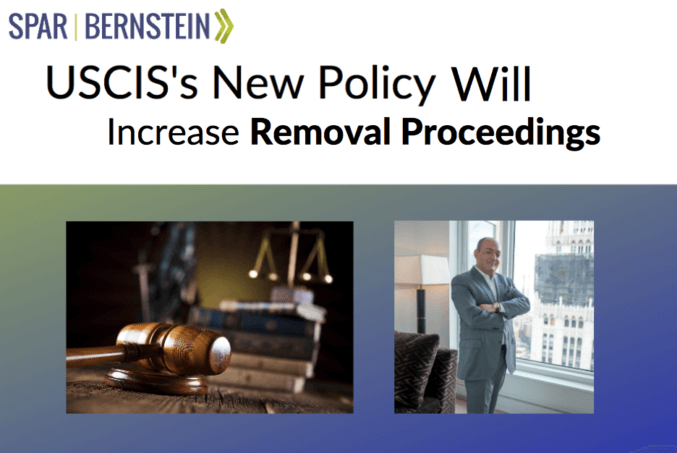 USCIS Denials Are Leading to Increasing Orders of Deportation!
Under the Trump Administration, legal immigration is tightening once again. A new policy has United States Citizenship and Immigration Services drastically shifting policies to amp up deportation and enforcement measures.
The new policy – effective June 28, 2018 – has required USCIS to increase their issuance of Notice to Appears or NTAs, which is the document that leads to immigration court proceedings.
Managing Partner of the Law Offices of Spar & Bernstein, P.C. Brad Bernstein notes this new policy will greatly impact law abiding persons whose applications or petitions are simply denied. Such a denial will now trigger the applicant to appear in immigration court for removal proceedings through USCIS's NTAs.
"Fear of deportation will only deter eligible people from seeking legal status," Mr. Bernstein said. In light of this new policy, "it is critical that applicants submit their applications and petitions with the utmost accuracy — any mistake could have detrimental consequences."
USCIS annually denies hundreds of thousands of petitions, according to the The American Immigration Lawyers Association. To make sure you are not included in that denial population, contact the Law Offices of Spar & Bernstein to properly submit your case.
Additionally, if you are in removal proceedings, the experienced attorneys at Law Offices of Spar & Bernstein are on your side and are here to fight for your rights!. The attorneys at Spar & Bernstein provide specialized strategies and tactics in order to seek remedies available to noncitizens faced with deportation or removal orders. This may include obtaining waivers of inadmissibility, the cancellation of removal for permanent or non-permanent residents, the suspension of deportation, an adjustment of status to permanent residence, asylum and withholding of removal, or legalization and registry.