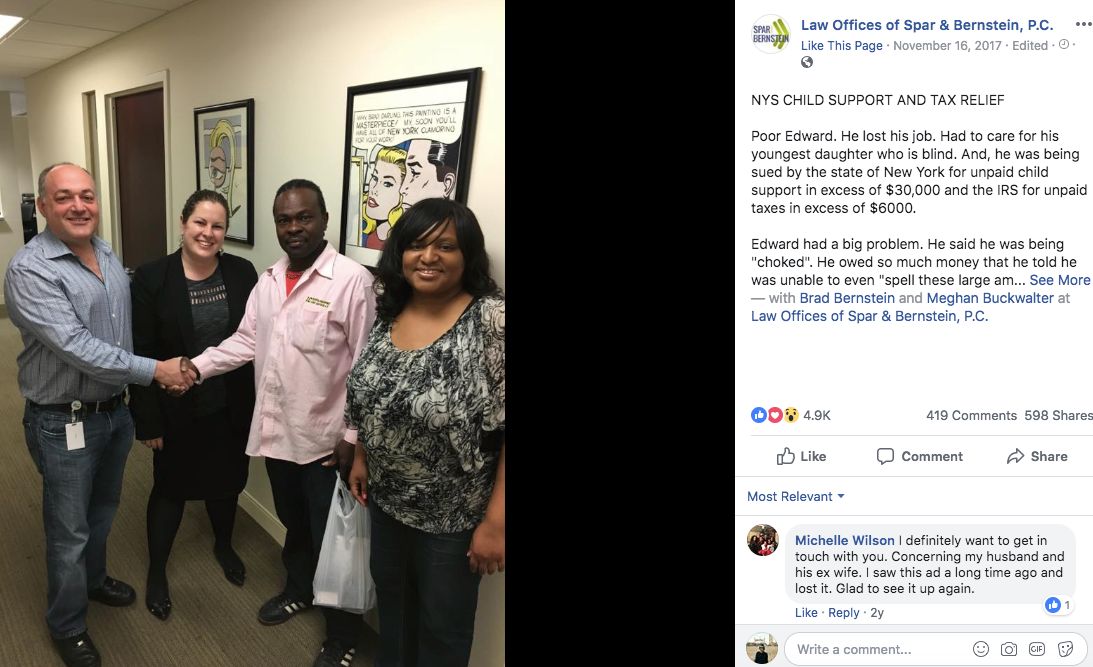 NYS CHILD SUPPORT AND TAX RELIEF
Poor Edward. He lost his job. Had to care for his youngest daughter who is blind. And, he was being sued by the state of New York for unpaid child support in excess of $30,000 and the IRS for unpaid taxes in excess of $6000.
Edward had a big problem. He said he was being "choked". He owed so much money that he told he was unable to even "spell these large amounts".
He recently came to Spar & Bernstein to meet with Meghan in our Family Law Department and Carmela in our Tax Department. And in no time we changed his fortunes around!
After a thorough investigation, we determined that Edward was a good father who paid his child support. But he paid directly to the mother instead of through the child support collection unit. And unfortunately, he did not pay by check. The mother claimed that she never received money from him which is patently not true. We were able to prove in court that the mother was trying to "double dip" and we proved that Edward's child support was always paid. Thanks to the efforts of Meghan Buckwalter Edward does not have to pay $30,000 a second time.
Now because Edward lost his job he was also unable to pay his back taxes and at the same time care for his legally blind daughter, pay for her medical care and put a roof over her head. Edward owed over $6000 to the IRS in back taxes. Carmela filed an "offer and compromise" with the IRS and turned his tax debt into $25. A tax savings of over $6000 for Edward.
Thanks to Meghan Buckwalter and Carmela Walrond, Edward can now breathe again. He is no longer being choked.
Here is a picture of Edward who is a very happy man, myself (Brad Bernstein), Meghan Buckwalter, and Carmela Walrand.
Another happy client and success story.
Law Offices of Spar & Bernstein, P.C.
225 Broadway 5th Floor NY, NY 10007
TO CONTACT US CALL:
1-800-529-5465 (North America)
1-212-227-8933 (International)
Attorney advertisement. Prior successful results do not guarantee a similar outcome in the future. #sparbernstein #Attorney #bradbernstein#greencard #immigrationlawyer #immigration#lawyer #truestory #usimmigration #uvisa
#removal #deportation #citizenship #TaxAttorney #SBLaw #HonestAnswers #NYCLaw#NYCLawyer #Lawyer #taxproblems#SparBernstein