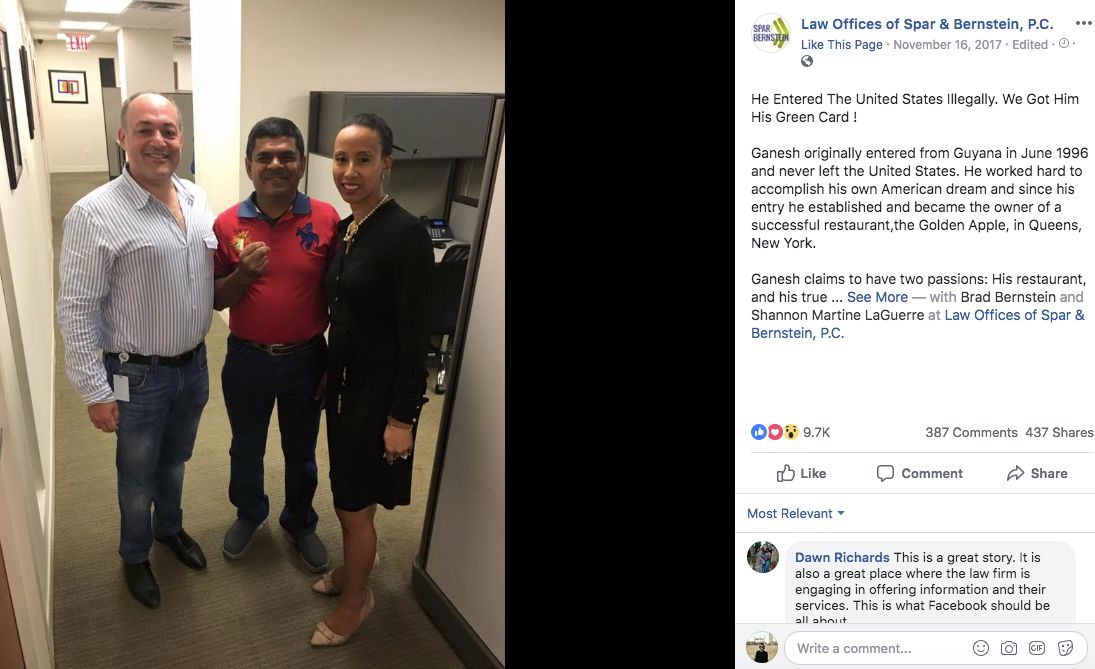 Ganesh originally entered from Guyana in June 1996 and never left the United States. He worked hard to accomplish his own American dream and since his entry he established and became the owner of a successful restaurant,the Golden Apple, in Queens, New York.
Ganesh claims to have two passions: His restaurant, and his true love, his wife, who he coincidentally met while she was a customer of his at his restaurant in 2007. They fell in love quickly, lived together for several years, and officially married in 2012.
But as always, life comes with problems. Ganesh's wife was diagnosed with a heart condition which required surgery and continued doctors supervision and monitoring. He is cognizant of the need to reduce her stress and tries his best to take care of his beloved wife. He cooks her favorite meals. He makes sure the house is clean. He takes her to every doctor's appointment and makes sure she takes her medication daily. All because he does not want her to concern herself with such small details and add undue stress. As he explained to us, "her health is the most important thing to me."
But Ganesh also had an immigration problem. He entered the United States without inspection. Even though he was married to a US citizen, Ganesh was unable to adjust his status to get a green card because of his entry problem. So Ganesh remained out of status and illegal. He was concerned to make a move for fear of getting deported. As he further explained to us: I needed "to remain in the United States to care for my wife so she can continue to live the way she deserves a happy life full of love". He simply couldn't take the chance of being separated from her.
When Ganesh came to us, his case was assigned to Shannon Martine LaGuerre one of our senior immigration attorneys. She quickly filed an I-130 visa petition for him, and than a provisional I-601 waiver for him based on hardship to his wife. The I-601 waiver allowed Ganesh to return to Guyana without penalty to obtain his green card. He went home to Guyana for approximately two weeks, had an immigration interview at the US Embassy in Georgetown, and returned a lawful permanent resident of the United States, free to run his restaurant and free to care for his wife forever. He came in recently to thank us and give us all big hugs. Pictured here is myself, Brad Bernstein with Ganesh and Shannon who did a wonderful job on his behalf.
More happy clients and success stories from
Law Offices of Spar & Bernstein, P.C.
225 Broadway 5th Floor NY, NY 10007
TO CONTACT US CALL:
1-800-529-5465 (North America)
1-212-227-8933 (International)
Attorney advertisement. Prior successful results do not guarantee a similar outcome in the future.
#sparbernstein #Attorney #bradbernstein #greencard #immigrationlawyer #immigration #lawyer #truestory #usimmigration #uvisa
#removal #deportation #citizenship