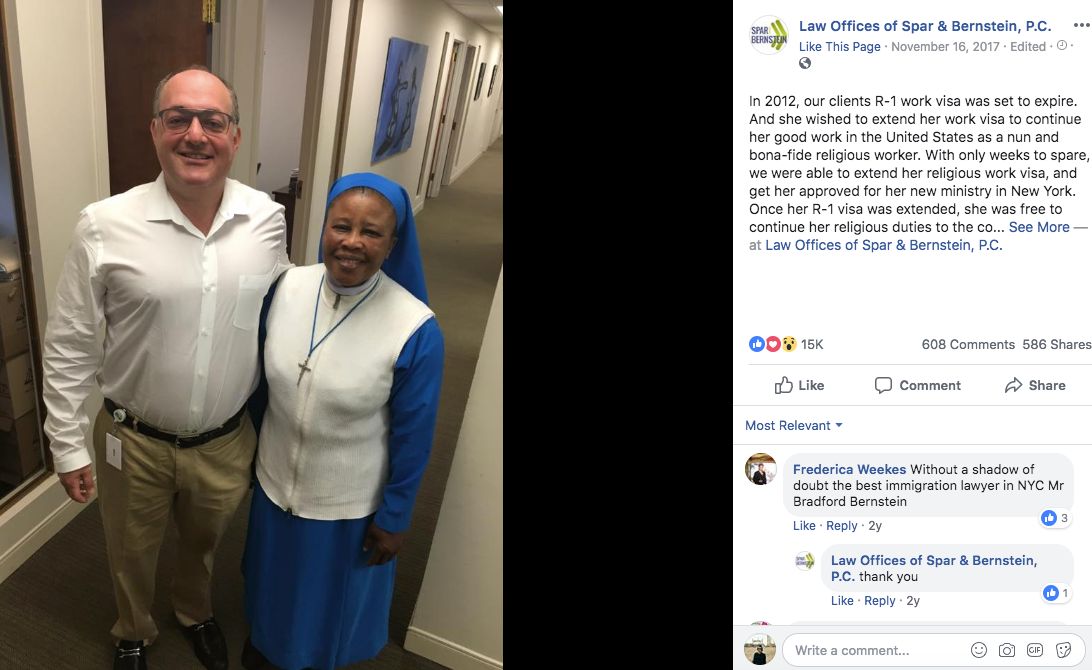 In 2012, our clients R-1 work visa was set to expire. And she wished to extend her work visa to continue her good work in the United States as a nun and bona-fide religious worker. With only weeks to spare, we were able to extend her religious work visa, and get her approved for her new ministry in New York. Once her R-1 visa was extended, she was free to continue her religious duties to the community. She came back to us a short time later to file for her visa petition and adjustment of status.
Today, she came into visit us as a lawful permanent resident of the United States. She thanked us and the Almighty for her easy transition to a green card.
Our client was more than proud to take a picture with us and show her gratitude. With the help of our office, and some divine intervention, she is a lawful resident. We wish her the best for the future as we are sure she will benefit lots of people she comes into contact with.
Another happy client and success story.
Law Offices of Spar & Bernstein, P.C.
225 Broadway 5th Floor NY, NY 10007
TO CONTACT US CALL:
1-800-529-5465 (North America)
1-212-227-8933 (International)
Attorney advertisement. Prior successful results do not guarantee a similar outcome in the future. #sparbernstein #Attorney #bradbernstein#greencard #immigrationlawyer #immigration#lawyer #truestory #usimmigration #uvisa
#removal #deportation #citizenship #RVISA#religiousworker