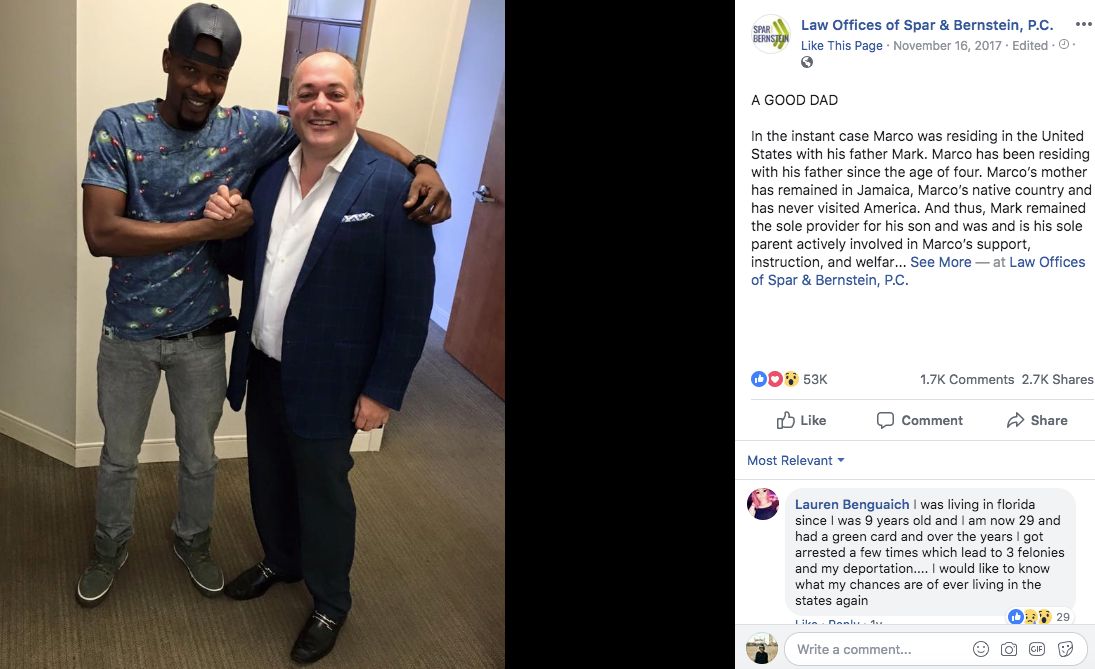 A GOOD DAD
In the instant case Marco was residing in the United States with his father Mark. Marco has been residing with his father since the age of four. Marco's mother has remained in Jamaica, Marco's native country and has never visited America. And thus, Mark remained the sole provider for his son and was and is his sole parent actively involved in Marco's support, instruction, and welfare.
But Marco had a couple of strikes against him, as far as the Immigration Service was concerned.
First, Marco entered without inspection and was not eligible to adjust his status because of his entry, even if his entry was as a baby. However, we determined that Marco was the derivative beneficiary of an I-130 Petition that was filed by his US citizen grandfather, Lionel, on behalf of his now-US Citizen father, on or before April 30, 2001 and was "approvable when filed." Because the relationship between Mark and his derivative child, Marco, was in existence on or before April 30, 2001, Marco is independently grandfathered. Additionally, as a derivative beneficiary, Marco was not required to establish his physical presence in the United States on December 30, 2000. And thus accordingly, he was eligible to adjust his status under §245(i).
Second. Mark was not married to Marco's mother. Because Marco was born out of wedlock, the immigration laws required us to prove the biological relationship and bona-fide parental relationship before approving Marco's green card. Birth certificates are not enough in these type of cases. We demonstrated the biological relationship thru DNA evidence and the bona-fide parental relationship through school records. And now, after all that work, Marco has a green card to live in America. Recently Mark came to our office to thank us on behalf of his son Marco who now has his whole life ahead of him to make Mark proud! Pictured with me is a happy Mark (the father).
More happy clients and success stories from
Law Offices of Spar & Bernstein, P.C.
225 Broadway 5th Floor NY, NY 10007
TO CONTACT US CALL:
1-800-529-5465 (North America)
1-212-227-8933 (International)
Attorney advertisement. Prior successful results do not guarantee a similar outcome in the future.
#sparbernstein #Attorney #bradbernstein#greencard #immigrationlawyer #immigration#lawyer #truestory #usimmigration #uvisa
#removal #deportation #citizenship