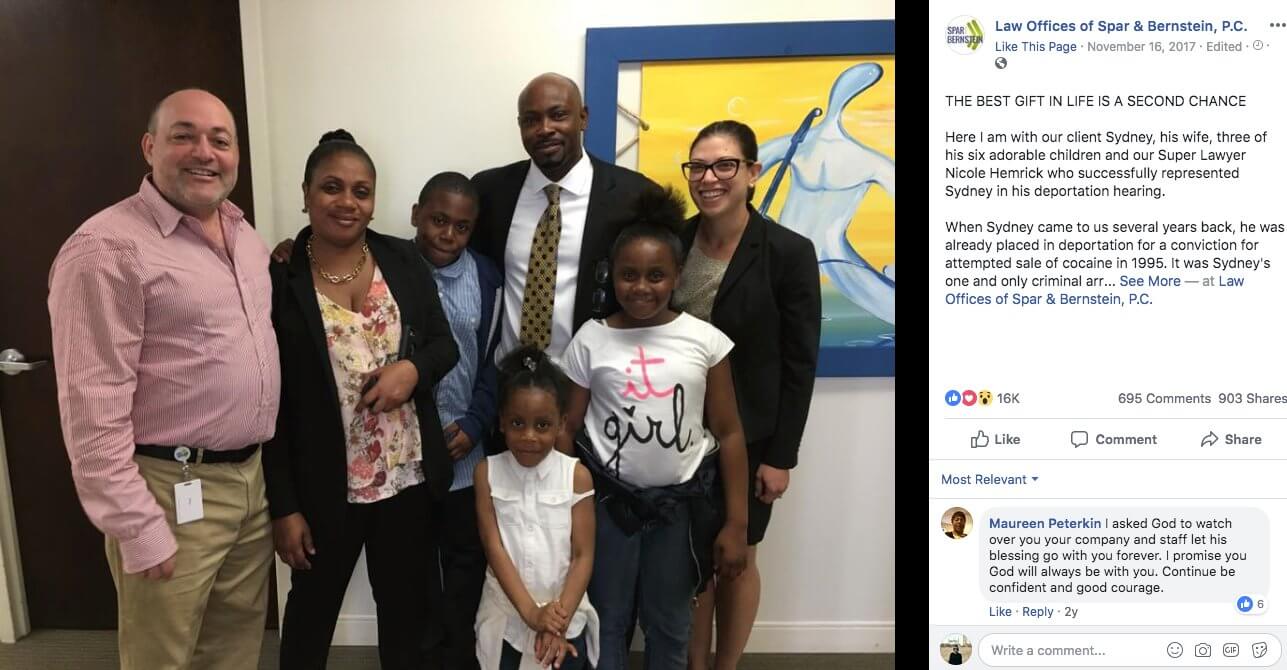 THE BEST GIFT IN LIFE IS A SECOND CHANCE
Here I am with our client Sydney, his wife, three of his six adorable children and our Super Lawyer Nicole Hemrick who successfully represented Sydney in his deportation hearing.
When Sydney came to us several years back, he was already placed in deportation for a conviction for attempted sale of cocaine in 1995. It was Sydney's one and only criminal arrest and/or conviction since he obtained his green card in 1987 at the age of 15. In fact, Sydney is adamant to this day that he was set up and was forced to plead guilty for a crime he did not commit. He was sentenced to 5 years probation.
Regardless, he did plead guilty and under the law became a deportable alien. He was placed in deportation in Miami in 2013 (18 years after his conviction). It took three years, but with the great work of Nicole Hemrick, we were able to argue successfully that Sydney is not a threat to commit any further crimes, that he and his family would suffer great hardships if he were deported, that he has been a person of good moral character for 20 plus years, and that deportation would only serve as a second punishment to him and his family.
The Judge agreed with us and granted Sydney back his green card. He now can live in the United States with his family and can travel freely.
For sure Sydney will not be wasting his second chance!
Another happy client and success story.
Law Offices of Spar & Bernstein, P.C.
225 Broadway 5th Floor NY, NY 10007
TO CONTACT US CALL:
1-800-529-5465 (North America)
1-212-227-8933 (International)
Attorney advertisement. Prior successful results do not guarantee a similar outcome in the future. #sparbernstein #Attorney #bradbernstein#greencard #immigrationlawyer #immigration#lawyer #truestory #usimmigration #uvisa
#removal #deportation #citizenship