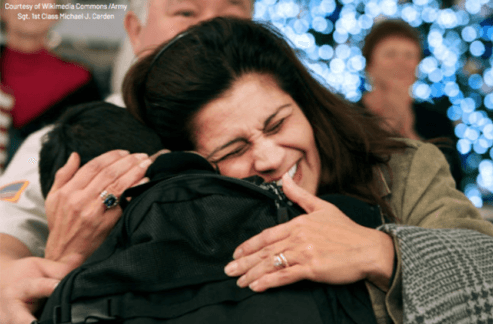 Why I-130 Petitions Are Taking Longer Under The Trump Administration
Image Courtesy of Wikimedia Commons /Army
Sqt. 1st Class Michael J. Carden
Approval of I-130 Petitions Delayed by Trump Administration
Unifying families has been the bedrock of US immigration policy since 1952. However, this is all changing under the Trump Administration, who has been delaying the approval of I-130 petitions.
"If you are US citizen, you are entitled to be reunified with your children, spouse and parents, immediately," Managing Partner of the Spar & Bernstein, Brad Bernstein contends. And according to Mr. Bernstein, this reunification process all starts with the I-130.  
"The I-130 form is what you use to file for a family member," he explains. "Whether you are filing for a spouse, child, parent, brother or sister, it always starts with the I-130."
Rights of US Citizens
If you are a US citizen filing for your spouse, parent or child, the case qualifies as an immediate relative case, which by law, means there is no waiting list, nor any quotas on how many applications can be approved.
"As quickly as the I-130 gets approved in that category, that's as quickly as you are entitled to a green card," Mr. Bernstein notes.  However, "the problem in 2019, is that Trump instructed the Department of Homeland Security to slow this process down."
You Are Entitled To A Green Card
"Many people have seen that their I-130 petitions are taking 9 months, 12 months, 18 months, 24 months, and even longer to get approved." Meanwhile, under other administrations, "these I-130 petitions generally, and normally, have taken at most, 6 months."
To combat this issue, and reclaim the rights of US citizens, Spar & Bernstein immigration attorneys are suing the government over such delayed applications.  
Immigration Attorneys at The Law Offices of Spar & Bernstein
On a regular basis, the immigration attorneys at the Law Offices of Spar & Bernstein are carrying out mandamus actions. These are essentially federal lawsuits that place applications with elongated pending periods into the hands of federal judges.
With a mandamus action, you are telling a judge "to make a ruling and to tell the government to approve or deny this case. To make a decision one way or the other, because it shouldn't take the government longer than 15 minutes to look at an application, and they are taking over 15 months," Brad explains.  
If your I-130 application is taking longer than 9 months, call Spar & Bernstein today at 1-800-529-5465.
Attorney Advertisement. Prior successful results do not guarantee a similar outcome.