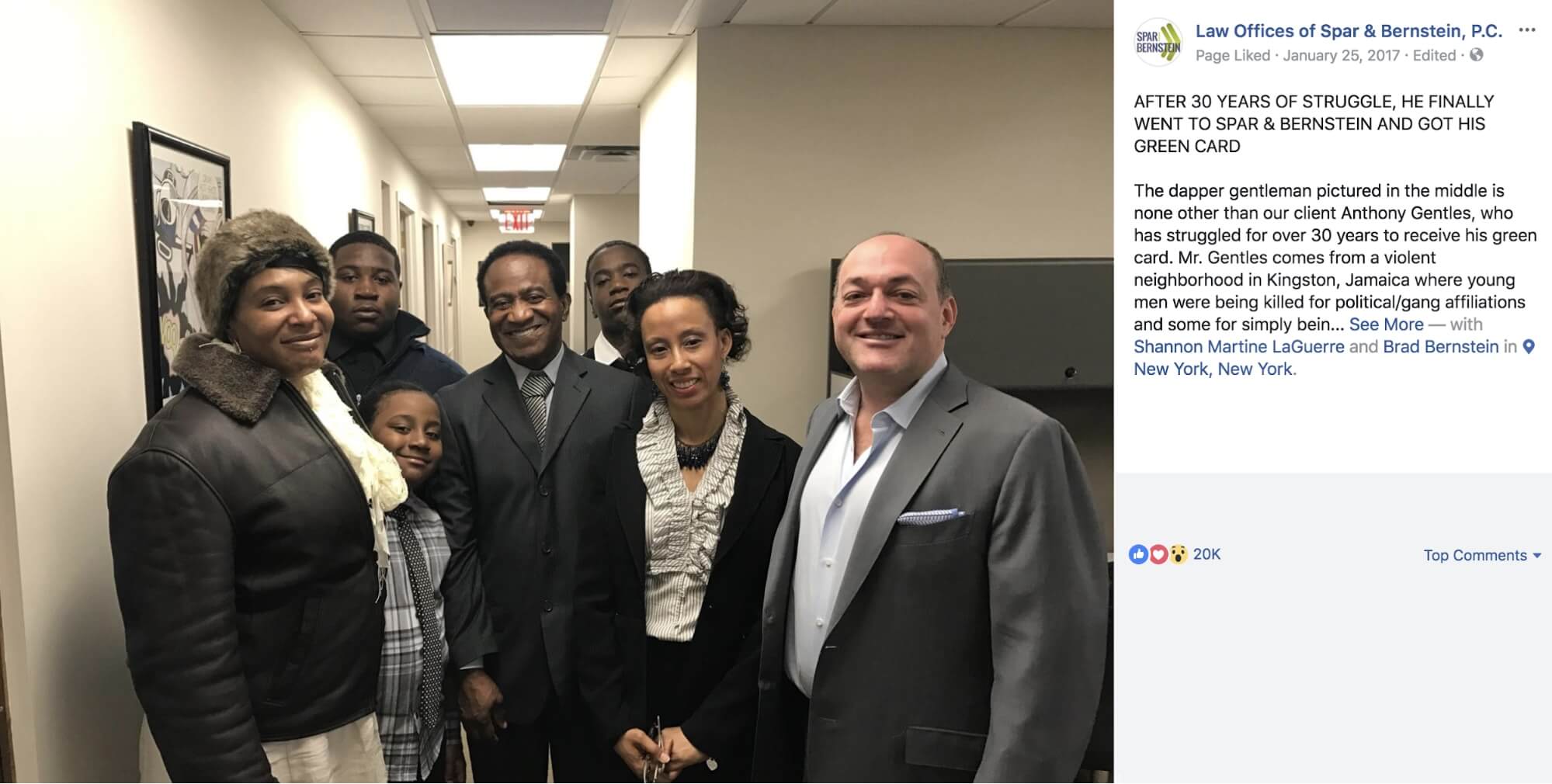 The dapper gentleman pictured in the middle is none other than our client Anthony Gentles, who has struggled for over 30 years to receive his green card. Mr. Gentles comes from a violent neighborhood in Kingston, Jamaica where young men were being killed for political/gang affiliations and some for simply being unfortunate enough to get caught in the crossfire. Recognizing the threat such a dangerous environment posed to her son, Anthony's terminally ill mother only wished for him to move to the United States for a safer life. Shortly after she passed away, he fulfilled her dying wish and arrived on the shores of Miami as a young man in September of 1980.
While living in the United States, Anthony had ten children and his first wife petitioned for him in 1982. When this was denied by the United States Citizenship and Immigration Service his oldest son petitioned for him in 2009 which also, sadly, was rejected. Despite living the better part of his life as an exemplary citizen, a past criminal record from his youth resulted in his green card application being turned down and the transferring of his case to Immigration Court. Frustrated with the ups and downs of his case throughout the past years, Anthony approached Spar & Bernstein. Our office took the initiative and submitted a waiver to establish how Mr. Gentle's wife and father (a legal permanent resident) would suffer should he not be granted a green card. Just a few years earlier, Anthony's physician had informed him that he had a heart condition however, without proper health insurance he would be unable to sufficiently address it.
This past September, while visiting the hospital to obtain evidence for his case, Mr. Gentle's physician insisted that he have a routine check-up. This resulted in his hospitalization where he underwent a coronary artery bypass graft surgery. It is always scary going under the knife, and we are thankful Anthony has made a full recovery. The surgery marked a turning point in his case and lead to the immigration judge granting his lawful permanent residence and green card! Anthony was all smiles when returning to the firm to offer his thanks, and we're glad he chose Spar & Bernstein!